Mama and BigE have made a couple of trips to a local pool to take in some water fun during our final days of summer. I had heard that BigE was making good progress dunking his head under the water. A big milestone for the next round of swimming lessons. He was dieing to show me.

Here he is jumping in the pool



BigE even seemed comfortable enough to show off several swimming strokes with his head underwater. ( He hasnt figured out how to breathe while swimming yet. )


Then the amazing thing was how Monkey (from WbFamily) said that he wanted to go to the 1 metre diving board. After two failed attempts he jumped off. This gave BigE the idea that he might like it.

BigE headed up once and came back to the stairs. He pretty much wanted somebody near him to go with him. Big Cousin Eric was in the line waiting to go so he went up as Dada took the picture:

Ready, Set ...


GO


Off the 1 metre springboard. I was quite impressed that he was willing to do it.

Eric was getting a few jumps in when he wasnt keeping BigC under control.



Keeping BigC under control ... Yup ... Eric was kind enough to walk him out the springboard so he could join in safely too. No fear. No jump either. Just walk right off the board. But man he loved it.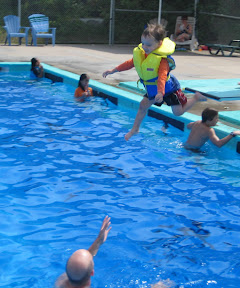 And not to be out done a shot of Monkey in mid flight



And one more shot of BigE in flight off the diving board.