I couldn't resist posting this pick I grabbed on the weekend. I was doing some homework when BigE called out for a snack. I said I'd be down in a minute. Two minutes later he comes upstairs asking for help to close the bread bag. I see what's doing and decide to let him go. A minute later it's the ziplock bag with the cheese. He said

"I cut it with one of my knives and it worked!"
Then the turkey came upstairs. Now I knew he was done so I couldn't resist finding the finished product. Here it is: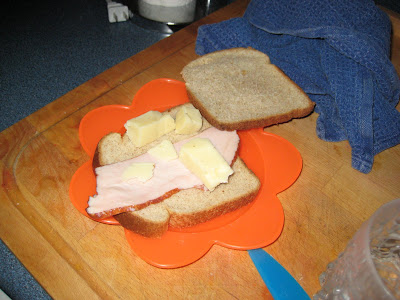 The first sandwich I know that he mad all by himself.