Another week and another round of soccer. The kids have been progressing. The practices are fully into separate drills run at stations around the field. Followed by a 10 or 15 minute game.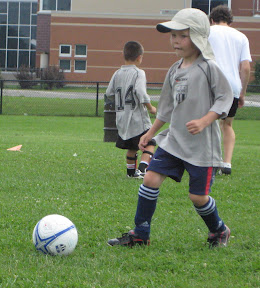 BigE kicking the ball full stride into the net

Here we have a drill where they had to dribble around the coaches but keep the ball inside the pylons. Here is BigE putting the move on the final coach.


This week the game was against the pink team. Now they have the worst jerseys of the bunch. Unfortunately I forgot to take a picture of them.